Moody Gardens Christmas Show
Information coming soon!
A Magical Christmas" will not be presented this year.  The new show will be announced shortly.
Curt Miller will be bringing his family-friendly "Vegas-Style" show to Moody Gardens this Summer from July 24 through August 4.  There are 2 shows per day (1:00 PM & 7:30 PM)
CLICK HERE to go to the official website to see video, get show information, and purchase tickets!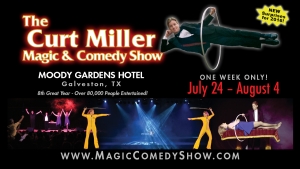 Magic! Comedy! "Vegas-Style" Grand Illusions!
The Curt Miller Magic & Comedy Show returns to the beautiful Moody Gardens Hotel in Galveston, Texas for the 8th great year with many new surprises for 2016!  Magician & Illusionist Curt Miller blends dazzling magic, music, and great CLEAN comedy in a theatrical show that will leave your whole family amazed, amused, and most of all Entertained!
The Curt Miller Magic & Comedy Show has dazzled over 80,000 people at Moody Gardens, changing the show each year with new illusions. You'll see people divided in half and disappearing right before your eyes. You might even get chosen to be a part of the show! Don't miss your chance to see a family-friendly Vegas-style magic show right here in Galveston!
A limited number of seats are available, so order your tickets today at www.MagicComedyShow.com (before they disappear)!
Daily, July 24 through August 4, 2016
2 Shows per day: 1:00 PM, 7:30 PM
Adults: $23, Kids (3-12): $16
CALL: 409-683-4186
OFFICIAL WEBSITE: http://MagicComedyShow.com
VISIT: Moody Gardens, 7 Hope Blvd., Galveston, TX 77554