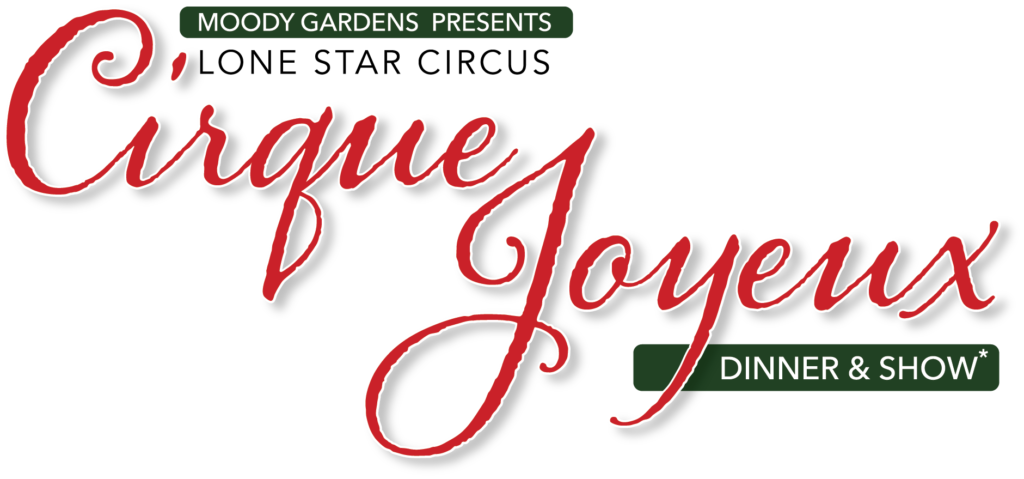 *Dinner not included with the Matinees

Cirque Joyeux hotel packages are also available click

here

for more information on the hotel packages.
The Moody Gardens Expo Arena at The Moody Gardens Convention Center
Nestled among 242 acres of lush tropical gardens along Offatt's Bayou on Texas' Historic Galveston Island, this complex is a premiere entertainment destination for business or pleasure and provides the backdrop for an unforgettable experience. The Moody Gardens Complex features a 428-room world-class resort and convention hotel and magnificent pyramids that contain a living rainforest, a Texas-sized aquarium, premium water entertainment area (Palm Beach) and Giant Screen/3D and 4D theaters.
The Expo Arena is the location for Cirque Joyeux Show from December 20 through December 30, 2019.
The 60,000 square foot barrier free arena can seat up to 7,000 people for a concert or event and has state of the art lighting and sound capabilities. It has been designed for outstanding acoustics that enhance all genres of music.
The Expo Arena has ample covered and uncovered parking adjacent to both venues and all non-reserved parking is free.
Address: Seven Hope Boulevard, Galveston, TX 77554
Click here for MAP:
Contact Information and Websites
Information and the Island Star Performances Box Office: 409-683-4186
Cirque Joyeux  Dinner and Show website is: www.MoodyChristmasShow.com
Media Inquiries:
Miranda Landsman
Public Relations Manager
Moody Gardens Hotel, Spa and Convention Center
409-683-4519
mlandsman@moodygardens.org
Island Star Performances, Inc. and Island Star Live
The Island Star Live series is a joint collaboration between Moody Gardens and Island Star Performances, Inc. to bring nationally acclaimed artists and an array of high caliber special events to Galveston Island.
Ticket Purchasing and Box Office Information
Ticket information for all concerts and events at the Expo Arena is available by phone at 409-683-4186. Island Star Performances Box Office is located at the Front Desk of the Moody Gardens Hotel.
A second box office for both Will Call and the purchase of tickets will be open at the venue site at 4:30 pm on the day of the event.
Will Call
Will Call Tickets are available for pick up two hours before the start of an event. The Expo Arena Will Call desk is located at the south entry of the Arena adjacent to the parking garage.
Age Limit
The Expo Arena is open to all ages and all children. Ages 3 and over are required to have a ticket to have access to an event (except as noted below).
BREWMASTER ATTENDEES – Please note – NO PERSONS UNDER THE AGE OF 21 WILL BE ALLOWED INTO THE BREWHAHA GRAND TASTING ON SATURDAY OR SUNDAY OR THE BREWLICIOUS EVENT ON FRIDAY NIGHT!!!
CIRQUE JOYEUX DINNER AND SHOW – Please note – ALL INFANTS AND CHILDREN WILL REQUIRE A TICKET FOR ENTRY INTO THE SHOW. 
Food and Beverage
The Expo Arena has full food and beverage concessions including beer and wine. You must be 21 years of age to purchase and consume alcoholic beverages. All patrons under the age of 30 are required to have a Texas State Photo ID to purchase alcoholic beverages.
Gates, Concert Times
The Expo Arena will open for concert and show admission two hours before the event time listed on your ticket (except as noted below). Concert times will vary by artist and event.
The Brewmaster ticketed events will all have a specific entry time. No early entry will be allowed.
Cirque Joyeux Dinner and Show entry will be at 6:30 PM each night.
Parking Information
Ample free parking for all events in the Expo Arena is available in non-reserved covered and uncovered parking areas adjacent to both venues. Some concerts may have specific areas of reserved parking as part of premium seating packages.
Concert and Event Admissions
For the general safety of our guests:
All carried items, including bags, are subject to search. No large bags or backpacks are permitted in the Expo Arena or the Outdoor Amphitheater.

Guests who do not agree to be searched will be denied entry to the Expo Arena and the Outdoor Amphitheater.

No blankets are allowed in the Expo Arena.

Re-entry to the Expo Arena will not be permitted without appropriate ticket, wristband or stamp. The venue reserves the right to change this policy at any time.
Seating Options
Concerts in the Expo Arena will be sold as either general admission or reserved seating.
For General Admission concerts, all ticket holders will have an unassigned seat. General Admission events may have up to three tiers of pricing with higher tier priced tickets closer to the stage. All general admission seating will be on a first come, first serve basis within each tier classification.
For Reserved Seating concerts, patrons will have a specific seat assigned within a specific pricing tier with higher priced seats closer to the stage. The capacity of the Expo Arena is 6,000.
Disabled Guest Information
The Expo Arena is ADA compliant, providing accessible seating, entries and parking for all events. Accessible Parking spaces are at the front drive of the Expo Arena and on the first floor of the parking garage. Additional accessible parking is located throughout the complex. If you have any questions regarding access, please call 409-683-4186.
Restrooms
The Expo Arena offers ample restroom facilities for patrons in the north and south lobbies.
ATM Information
An ATM service will be available during the day of the events only.
Rules & Regulations for the Expo Arena
Fan Conduct Policy:
Anyone exhibiting disruptive or unruly behavior, who is intoxicated, illegally in possession of alcohol or other prohibited substances, or who interferes with the ability of others to enjoy the event will be ejected from the venue and be subject to arrest.
Allowable Items:
Fan-made signs or banners provided they are in good taste as deemed by Management
Prohibited Items
The Expo Arena does NOT allow the following items:
Chairs in Bags

Umbrellas

Glass Containers of Any Kind

Obscene or Indecent Clothing

Obscene Fan-Made Signs

Backpacks

Large Purses

Animals (excluding Service Animals)

Audio or Video Recording Devices

Wallet Chains

Laser Pointers

Outside Food & Beverage

Aerosol Cans

Playpens

Skates

Skateboards

Coolers
Camera Usage Policy
The Expo Arena WILL ALLOW photo cameras into all concert events unless otherwise posted. The camera policy for the venue is as follows:
Photo cameras must have a lens of less than 4″ long. Professional cameras are not allowed.
The singer/performer may request not to have pictures taken while he or she is performing. Video cameras are not allowed.
Moody Gardens will NOT tolerate the following from guests anywhere on property:
Tailgating

Dancing or standing in aisles or access ways

Standing on chairs

Sitting/standing on shoulders of another guest

Crowd surfing or moshing

Reselling or scalping tickets at any price. To avoid problems with counterfeit, stolen, void or other invalid tickets, tickets should only be purchased through the Island Star Performances approved vendors.

The distribution of items, flyers, pamphlets, printed materials, as well as the solicitation of signatures is not permitted without written authorization from Management.
Should you have any questions that are not answered by the preceding information, please call the Island Star Performances info line at 409-683-4186.
Other Disclaimers
Guests entering The Expo Arena may have their image and/or likeness reproduced for promotional and/or publicity purposes. By entering the property you agree to allow such use of your image and/or likeness.
Moody Gardens and Island Star Performances assumes no liability for personal loss; injury, death, property damage or other related harm suffered by participants, spectators, site owners, leasers, or others who may be adversely affected by event for personal loss; injury, death, property damage or other related harm suffered by participants, spectators, site owners, leasers, or others who may be adversely affected by event. Furthermore, cancellation of an event due to an act of God, riots, strikes, labor difficulties, epidemics, and any act or order of any public authority or cause, similar or dissimilar, beyond the control of Moody Gardens, reserves the ticket bearer no right to refund or exchange, and Moody Gardens is not obligated to a substitute performance.